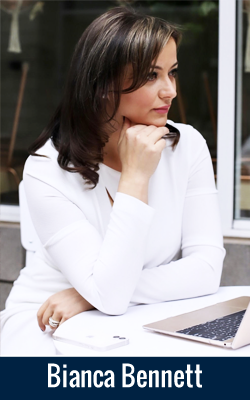 Bianca Bennett Real Estate Team
Fluent in English, Romanian and Spanish
Buyer / Seller Agent & Investments
Whether you are in the market to purchase your very first house, seeking investment opportunities or considering selling a property, Bianca Bennett & Her Team are ready to work for you. With a wide experience in evaluating single-family residential properties and unique knowledge about the market will allow Bianca to negotiate and obtaine the best price for your house.
Buying and selling homes is our job. It's what we do best. Give us a call and put Bianca Bennett to work for you, so you can do what you do best.
For real estate investments services, Bianca focuses on distressed residential real estate. The strategy is to acquire, lease and manage Single-Family Homes with the goal of producing risk-adjusted returns, and a competitive cash-on-cash return for her clients while providing an outstanding value to her tenants.
Bianca Bennnett worked as a National Accounts Manager for Fannie Mae, Freddie Mac, Chase & Wells Fargo. Managed the day to day activities of 300 portfolios single family homes, communicated between owners and tenants with questions or concerns pertaining to their property, assisted owners and tenants with HOA violations resolutions, prepared Move Out Security Deposit Dispositions, notified all the internal departments regarding the vacancies status, 30 day notices, owner cancellations, owner acquisitions. Involved in maintenance and work order status; involved with leasing as to Leases, Lease renewals and move outs, upcoming vacancies and advertisement updates/status. Prepared rent agreement violation notices to be delivered to residents start eviction proceeds on behalf of owners. Rent collection and follow up of rent delinquencies.